VISIT TO THE WILLIAMSON TUNNELS - EDGE HILL - LIVERPOOL- 10TH FEBRUARY

Photos by Chris Nelson , Stan Blundell  & Cam Cunningham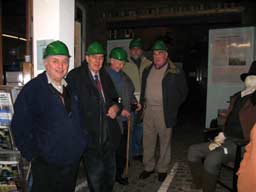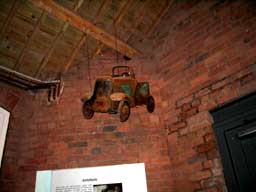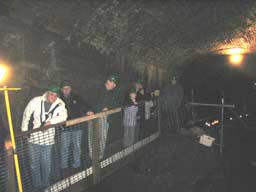 Ray, our social organiser, took us to Liverpool for our midmonthly meeting. About 30 members and friends turned out to view the "Mole of Edge Hill's" folly. A labyrinth of tunnels under Edge Hill just a mile from the city centre- they were constructed in the early 19th century by Joseph Williamson to give employment to unemployed men returning from the Napoleonic wars . Up to 300 men and their families were working at any one time. They have recently been excavated and 160 years of rubbish is being removed. More details later.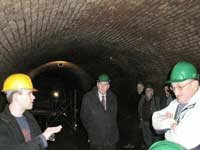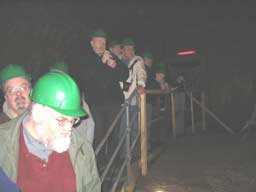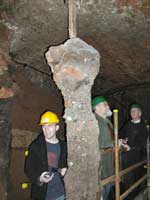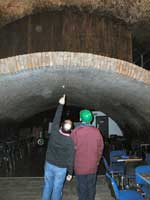 Above - Eric, Tony, Tom, Noel and David wait for the tour with Joseph Wiiliamson seated .

Above - hanging in the foyer - a pedal car in need of restoration - did they find it in the rubble?

Above - Bill, Jamie and Chris look down at the deep excavation.

Above - Martyn and Ted look suitably awe struck

Left - Bill and Tony listen intently to the tour guide

Right - Seated in the bar area after the tour, Nigel transfixes Chris with ghost stories .

Left - The kebab . A 1960s foundation support has punctured the tunnel - It doesn't look as though it would hold much weight now!

Right - Ray points out the brickwork of the tunnel within a tunnel in the bar area to Dave Staniforth.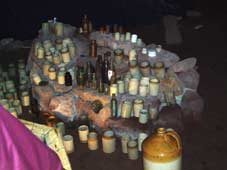 Left -

The tunnel within a tunnel - the smaller one was practice for the apprentices

Right -

Some of the rubbish that was found in the one tunnel that has been cleared - jam jars and bottles  thrown through holes in cellar floors of the houses above.

STONELEIGH TRIP WITH A LINK TO BELGIAN MG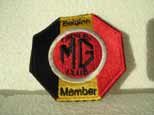 Our annual trip to Stoneleigh had a slight twist to it this year. Henri Dhaenens the secretary of the Belgian MGOC had asked if he could buy one of our, by now, highly collectable 25th anniversary badges. When we found out that he was planning to travel to Stoneleigh we agreed to meet him and exchange our badge for some of his club's regalia. Several of our members met up with Henri at the MGOC stand in the main hall and he was presented with our badge by Cam (photo Top Left.). Tom and the other members ( L to R  Paul, Peter ,Tom, Cyril, Henri, Richard and Joyce) gathered round for the photo call - photo bottom left.

Fortunately Henri spoke perfect English which is just as well as our French is none too good!

The photos on the right are of the

Belgian club badge and cap.

Henri will be back in the UK in the summer and we plan close links between our two clubs.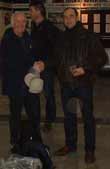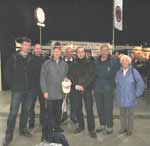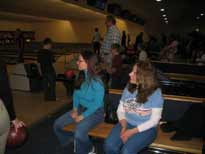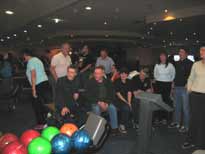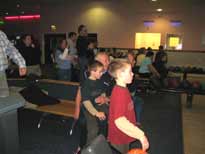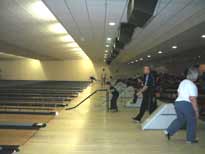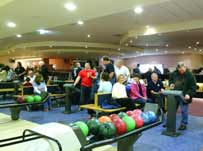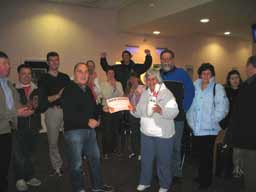 BOWLING NIGHT IN SOUTHPORT FRIDAY 4TH MARCH

A  montage of photos from our bowling night. Thanks to our social organiser, Ray Trivass, for arranging the excellent evening. All 30 of us  enjoyed the buffet supper followed by 2 sessions of bowling. Congratulations to Dave Hockney with his high score of 144 - Nigel did get 149 but he was using the gutter guards with his kids and admitted to an "in off". Brian Stafford had the next highest of 130 followed by Chris Nelson with 121. Carol Stafford was the highest scoring lady with an excellent score of 125 followed by Alison Dickenson with 116 and Lisa Christian with 115.. Jill Skinner had the booby prize with the lowest score but what a prize - the management of the bowling alley  allowed us to keep the broken pin - Jill is seen receiving it with a certificate, from Ray.

Thanks to Andrew Dickenson for the photos.

Highest scorer Dave Hockney with the broken pin

Ray presents Jill with the broken pin.

Carly and Joy watch intently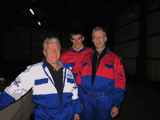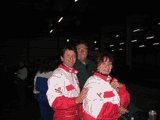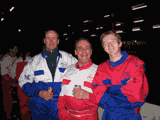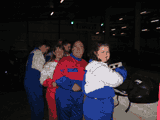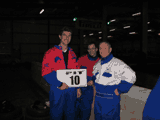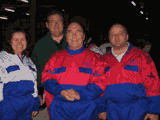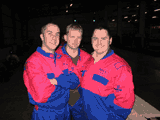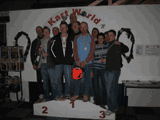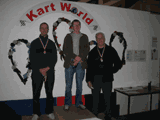 FRIDAY APRIL 8TH - KARTING AT THE BURSCOUGH TRACK.

Once again Paul organised an excellent evening at Kart World in Burscough and this year there were 10 teams of club members and friends. After 90 minutes of racing car 16 of Ed 2 team came 1st followed by car 17 of MGBs team and in 3rd place was car 1 of the Schofield clan with 117 ,116 and 115  laps respectively. The MGBs were the highest place club team consisting of Peter Dobson with friend Alan and Jerry Myers and son Bob coming an excellent 2nd.- well done to you all. Unfortunately I was the handicap in my team only managing 7th place (with apologies to my son Scott and friends Tony and John.

Photos of some of those taking part are displayed below.

Nigel Lomas, Dave Staniforth & team member

Brian & Carol Stafford with Chris Nelson

Peter Dobson, Jerry & Bob Myers - the 2nd placed team.

Scott Cunningham with friends Tony and John

The MGC team in Car 13

Lisa Christian, Ray Trivass and Jamie Coventry with Chris looking on.

The MGB team gained 2nd place. Peter and Alan with Bob Myers.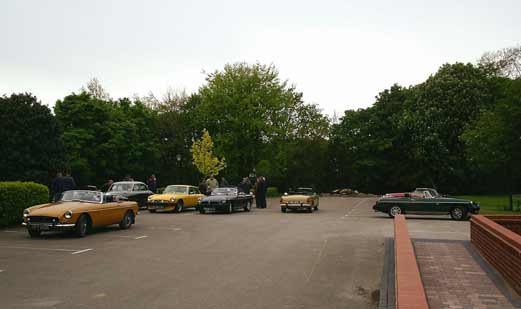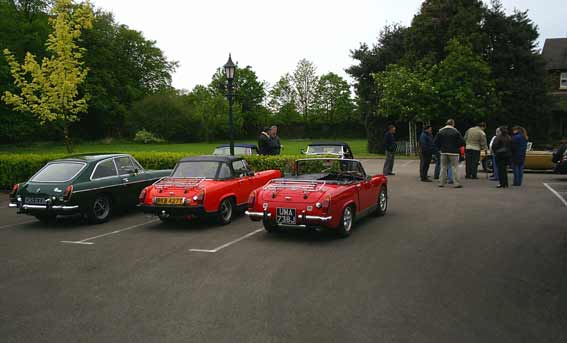 FRIDAY 6TH MAY - A DRIVE OUT TO THE BARON'S REST PUB IN ASTLEY VILLAGE - CHORLEY

                                      Thanks to Andrew Dickenson for the photos.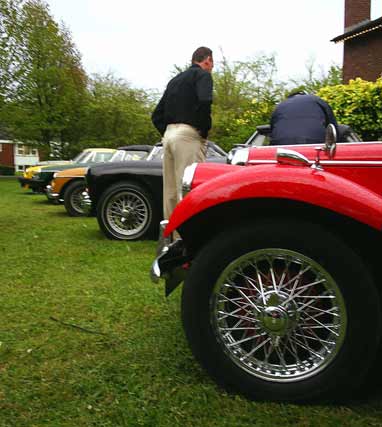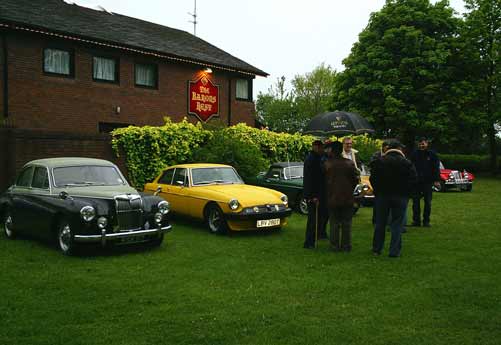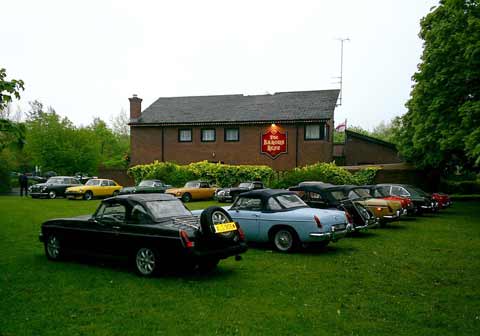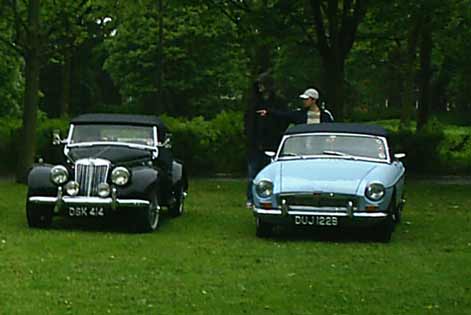 Photos above - 13 cars met up in our Briars Hall HQ car park at 7 p.m.. It was dry but looking a bit over cast as we set off in convoy for the 15 mile drive to Chorley.

Photo above .

Ray Coventry - club member and Baron's rest landlord checks out the cars. Nice shot of Tom's TF front wheel.

Thanks are due to Ray and Laura Coventry for putting the excellent buffet for us .

Photos above and left - and then the rains came down . Within minutes of us arriving at the Baron's Rest - it started to rain and then it poured down all night!

Photo - Right - Were our cars safe?

A couple of dodgy looking characters inspected Cyril and Robert's cars. This made us decide to keep a "sentry" on duty to keep on eye the cars during the evening - you can't be too careful, especially with soft tops.

THE HUNTAPAC MUSEUM - HOLMES - FRIDAY JUNE 3RD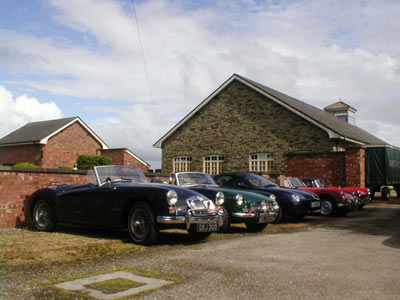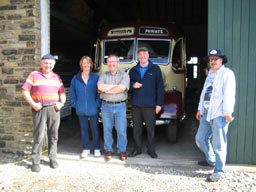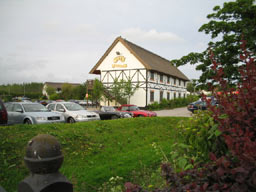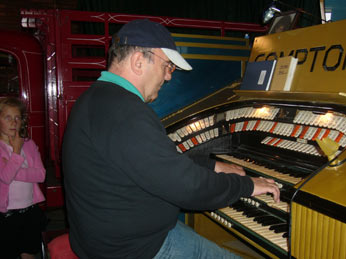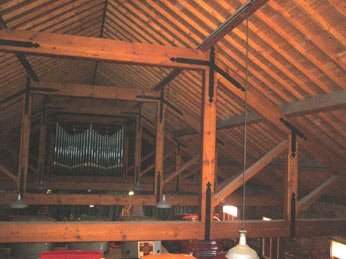 June's mid month meeting was something of a departure from the usual event. Ray managed to obtain permission to visit this excellent small museum on the recommendation of David Bryant. The only time that it was available was the early afternoon from 3 to 5 p.m. The lucky few who were free at that time drove over to Holmes, near Tarleton, to the specially built museum at the rear of the Huntapac factory. William Hunter , the company director has had the trucks, lorries and buses restored to a very high standard. Our guide, Norman Wade restored several of the vehicles himself including his pride and joy the lovely 1940s Leyland 29 seater bus.

Above - Club members cars outside the museum

Below - Ray tries out the magnificent early 1900s organ reclaimed from the Southport Essoldo theatre and gains a young admirer (Warren's daughter Stephanie).

Above - our guide Norman describes the restoration process to attentive members.

Below - Eric, Alison, John, Jerry and Eddie in front of the beautifully restored bus.

Left - The building itself was built to the highest specification using reclaimed bricks and Canadian timbers. The roof beams were specially imported and are 54 feet long. The trusses are in "Queen " post structure rather than the usual central "king" post. The organ pipes can be seen at the end of the building

Thanks to Jerry Myers and Alison Dickenson for the photos

Later that evening - To finish the day Ray suggested that we  ventured further North to Guy's Hamlet near Garstang where a fine supper was enjoyed.

Photo left - David Reeves'  RV8 and Cam's MGA can just be seen parked outside one of the many  thatched buildings in the hamlet.

MAGICAL MYSTERY TOUR- Thursday 7th July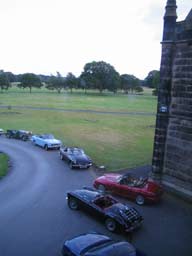 Ray Trivass, our social organiser, managed to persuade Simon Wynn from Kingswood College to show us round Scarisbrick Hall as part of our " Pre show inspection". Ray turned this visit into a mystery tour of West Lancs and 15 cars followed him from our base at Briars Hall to Scarisbrick Hall on a half hour scenic drive. Eventually everyone made it and club cars can be seen in the photos parked outside the magnificent gothic building. Simon gave us a one  hour tour and his anecdotes of how the Hall came to be built by the Scarisbrick family were fascinating. Many thanks to Kingswood College and Simon and to Ray for arranging it.

To finish the evening we travelled on to the Stanley Gate Inn in Bickerstaffe. This inn has recently been refurbished and its mock oak beams fitted in well with the Gothic theme of the evening.

Photos by Andrew Dickenson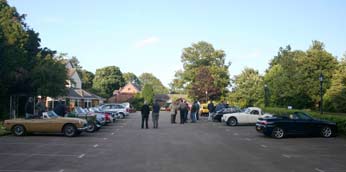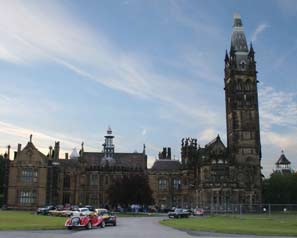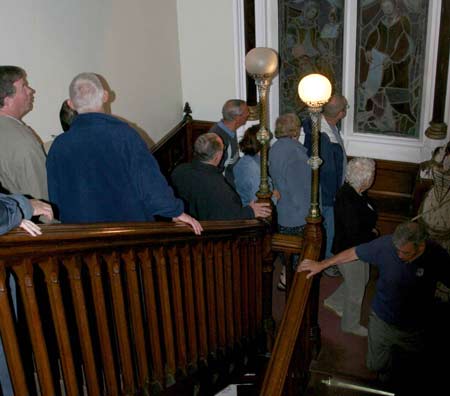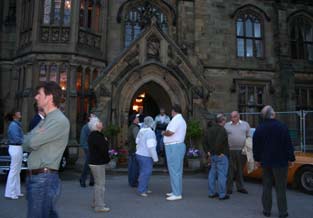 Ready for the off at Briars Hall

Cars arrive at Scarisbrick Hall

Members inspect the

stained glass windows

Members leave the Hall after an excellent tour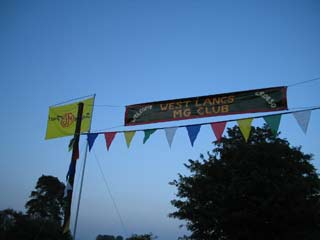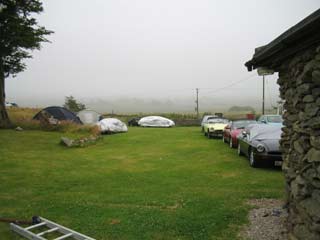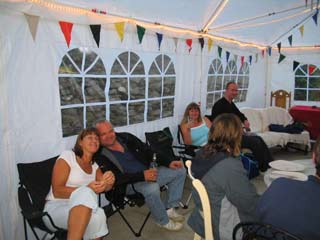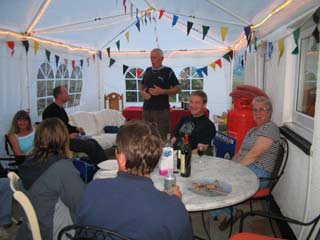 Club Camping Weekend at Harry Hockney's

- Betws y Coed

22nd-25th July

Harry had the welcome sign up (photo left) above the camping entrance to greet club members as they arrived at his B&B in Glasfryn near Betws y coed in North Wales.

Ray had organised a tour of "electric mountain" on the Saturday for the early arrivals. Saturday evening was BBQ party time with Harry and Pat setting a quiz and pass the parcel game to entertain everyone. Jamie christened the gazebo by substituting the usual champagne  for a bottle of old malt whisky - which he proceeded to smash on the floor. Sunday morning dawned with a damp mist over the hills (photo top right). Unfortunately Pat was taken ill and had to be rushed to hospital - let's hope she recovers quickly.

The damp morning mist rapidly turned to rain and Peter and Cam decided to break camp and head for home whilst the rest of the party visited the Ffestiniog railway for a trip to Llangollen.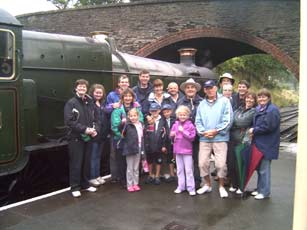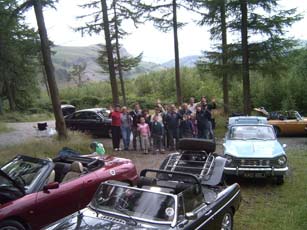 Photo left - the intrepid club members, who braved the wet weather on the Sunday , gathered on the railway station at Llangollen.

Photo right - By Monday the weather had cleared to give a relatively dry day. Club members gather for a photo call at the top .of World's End for a picnic.

Photo left - The gift shop at Llangollen station had everyone looking for bargains.

Photo - Right - Laura and Stephanie give Tom and Jack the eye at the picnic.

Photos - Lynn & Nigel Malyan, and Margy Blythe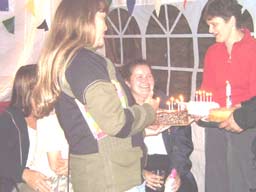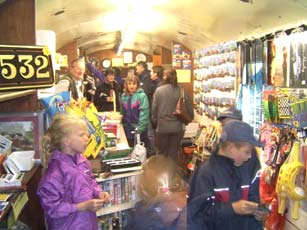 Photo left - Lisa celebrated her birthday on the Friday evening with 3 cakes. ( That's a coincidence - I  need 3 cakes to fit all my candles on as well!)

Photo right - Cam's description of MG restorations has Carole enthralled - John (alias Crocodile Dundee) is not so  easily impressed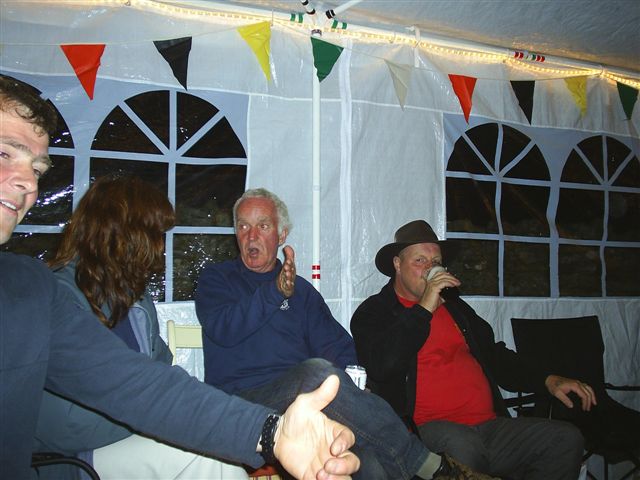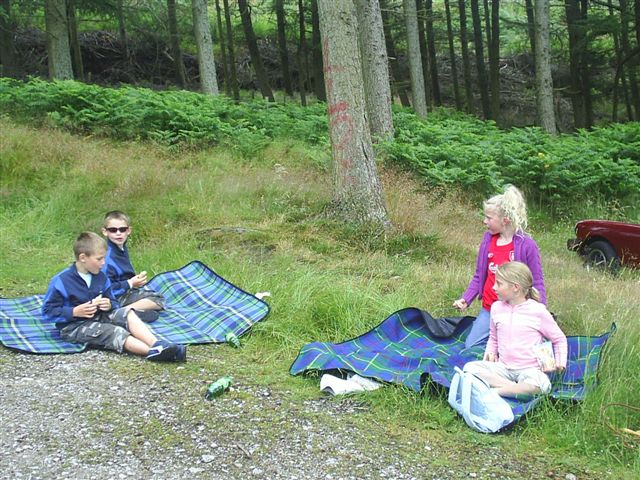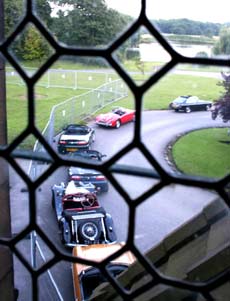 An interesting angle to view some of the club members cars - from one of the garret windows.

How many cars do you recognise?

A view from the other side - this time without the framing of the lead lights in the window. Again - can you recognise the cars?

Thursday August 4th - Prince William Inn - Dalton.

This turned out to be a very wet evening , but it didn't deter a good number of members  from turning out - some  getting rather damp  in the process. There were 10 MGs in the car park and Nigel's Morgan together with the less adventurous club members "proper" cars . It was too dark and wet to take any photos for posterity so you will just have to picture a wet , dark car park for yourselves. Everyone headed for the pub lounge where the 25 MG enthusiasts took over the place - probably doubling the takings in doing so. We welcomed Peter Ferris from Ainsdale who has just bought an RV8 and wants to sell his very tidy white B roadster - we hope he liked the look of us and will join our membership. Also noteworthy this evening was the reappearance of Bob Swindells  former club secretary from 1986 to 1990. This was an appropriate place for him to make his return because this was where the club held its meetings when Bob was the secretary. Bob had laid his Midget up for nearly 15 years and has just recommisioned it and he brought it out to the meeting together with his young son. Welcome back Bob - we hope to see you at our meetings again.

Thursday September 1st. September's  mid month meeting was at the

BOWLING GREEN pub in Chorley

Well done to those who found their way using my instructions on this website - I nearly couldn't find it using the instructions - given by Raymondox by the way . The "couple of miles from the traffic lights" -  turned out to be nearer 5 miles and the pub is in Chorley NOT Standish.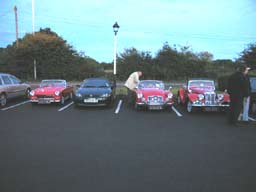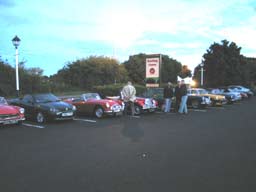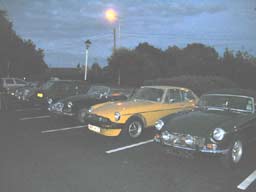 When we eventually found the "Bowling Green" pub, it turned out to be a very pleasant place for a drink - and it was very nearly empty. Eric, Ralph and David Bryant had already arrived when we got there and we managed to put most of the cars together, to form a line - although, Tom, Ralph and Dave Reeves had to stand together to hide the Citroen which got in the way (ABOVE RIGHT). As the darkness fell, it was tonneaus on to keep the damp out of the cockpit (BELOW RIGHT)

(ABOVE) - 5 minutes later this photo was taken and it was already dark ..


The 3rd Annual Trip to the Blackpool Illuminations

A total of 13 cars cars ventured out on the expedition to Blackpool. There were 10 MGs , one Triumph , an NG special and and a Merc. Martin in the Merc and then Nigel in his Triumph Herald took turns in leading  the convoy. Keith and Debbie met us at the end of the prom - they live in Blackpool and were visiting the lights for the first time (!! ) - which made a contrast with Ian Robinson who lives in Middlewich and had travelled 70 miles. Everything went very smoothly on a balmy autumn evening - except for Chris in his NG special - which played up at traffic lights by stalling and refusing to start for 5 minutes. After discussing the origins of his car with various by standers , Chris eventually caught us up at the end of the illuminations  with Peter as his escort. This occasion seems to be the chance for new members to get together as John, Colin, and Dave all made it their first club event - welcome aboard to you all. This was also Ray and Keith's first Blackpool trip; so what happened to all the long standing members? - perhaps if you have been to the "Lights" once it is enough - certainly the light (sic) traffic seemed to confirm that the display is not what it used to be. A fish and chip supper and a chorus of Happy Birthday (alright I own up - I am 49!) finished the evening off before we headed for home via Lytham St. Annes.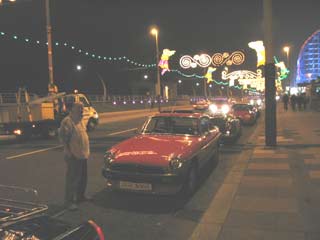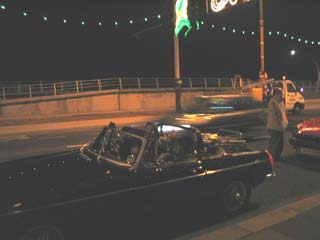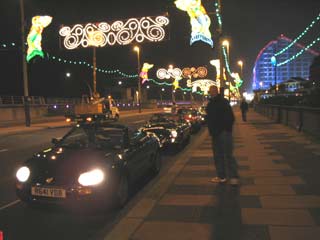 Ian stands by his GT as we waited for Chris to catch up.

The Staffords  turned out - even though Brian was due back at work later that night

Ray Travies chats to new member Colin in his MGF

Sunday run. Sunday November 13th - Lancaster University - Craft Fair

Alan and Marianne planned the Sunday Run to Lancaster . They were rewarded with the best sunshine of the month so far. Unfortunately only Ralph and Richard turned out to join them - the rest of us missed an excellent day out.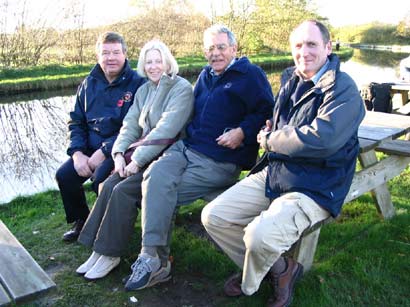 Photo - left.

L to R .Ralph, Marianne, Richard and Alan enjoy lunch by the canal at Galgate.

Photo by Richard Sherman