Reports from shows and events that club members have visited during the year 

- see the calendar for upcoming events - scroll down for previous months

CHIPPING STEAM FAIR  - Saturday 26th May 2007

This is the first time that club members have exhibited cars at this event. Situated in the Forest of Bowland just north of Longridge near Preston this turned out to be a very pleasant small show . With about 40 cars on display and a fair selection of stalls and a marqee full of exhibitors there was plenty to do and see during the day. The weather stayed dry but breezy and the 4 club cars had a prominent place in the car display area. Cam was surprised to get a Highly Commended ( not "condemned" as Tom  suggested) rosette for his car and all exhibitors received a rather nice Wine Glass as a memento. This is must for a full club  turn out next year. 

TATTON PARK - JUNE 2ND & 3RD

As always this turned out to be an excellent show with large numbers of exhibiting cars and autojumble stands. We were allocated 20 tickets but the stand was so small that it is perhaps a good job that all 20 did not turn up . With 15 cars on the stand on the Saturday, things were pretty crowded. Robert Collier was pleased to get the award for best MGB and well deserved too. On the Sunday we had 12 cars on the stand so there was a little more room. We also had a chance to display our newly purchased club banner which replaces the one stolen last year at Astle Steam fair. The weather stayed very hot all weekend so the gazebo gave a welcome shade from the sun - makes a change from the usual rain.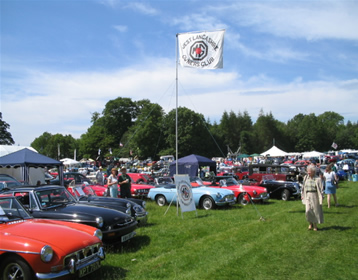 Saturday at Tatton  and the first chance 

to display the new banner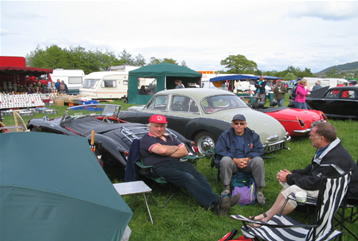 Eric relaxes with Richard and friend Dave 


MARTIN MERE - SUNDAY APRIL 29TH 2007

This is a great little show put on by the Austin club with free admission to the wildfowl centre- a good turn out from club members with around 10 of our cars joining a display of around 30.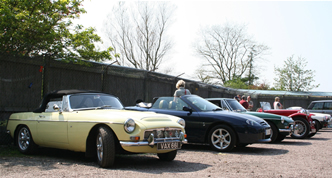 LEYLAND MOTOR MUSEUM - 20TH MAY 2007


A fair turn out of club members especially as they were paying £2 for the privilege of parking in the museum car park . This did however cover the admission charge to the museum.

CHOLMONDLEY CASTLE - 13TH MAY 2007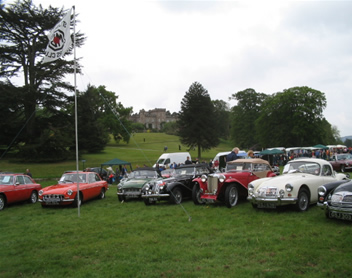 There were 11 club cars on our stand despite the dodgy weather forecast. With a good selection of autojumble stands this show is always a good start to the "big show" season. Unfortunately the forecasters were correct for once and the rain arrived right on schedule. By 1 pm we all decided to break camp and head for home before the rain got heavier - with apologies to Darren and Mike who turned up at 1.30 after we had all left!

DERIAN HOUSE SUMMER FAIR SATURDAY 9TH JUNE

As promised to John and Charmione, we took some cars to support the Derian House Hospice summer fair . It was beautiful sunny day so a pity we only managed 3 club cars  - with Dave & Pam  Gee attending their  first club event in their  white Midget. It got quite busy with a lot of interest in the cars - it would be nice to have a full stand next year.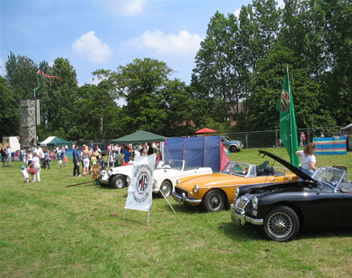 St. James' Church Fete - Wrightington

Sunday 10th June 2007

By 1 p.m. we had a good turn out of 10 cars and fortunately the weather held up and we had a good afternoon. The event was a little unusual in that nothing much happened until 3.30 p.m. when the parade eventually arrived. Fortunately there were refreshments on hand so we sat and enjoyed the sunshine and inspected the other cars and tractors on show . 

Report and photo - Richard Sherman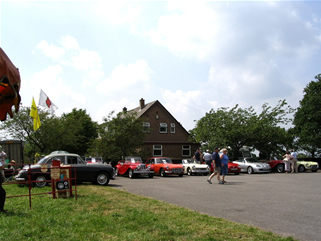 SOUTHPORT MOTOR SHOW - 23RD/24TH JUNE 2007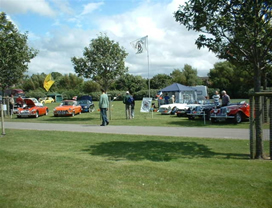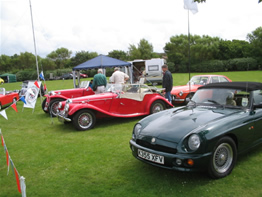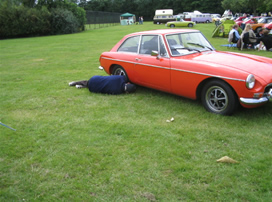 CLUBSTAND ON THE SATURDAY 

The Dickenson family enjoy a picnic in the sun

Tom Evans chooses a strange place to have a nap!

There was good turn out from club members with 10 attending with their cars on both days. Luckily the weather stayed bright on both days with only a few showers on the Sunday to dampen things. The poor weather forecast did keep a lot of exhibitors away though and there were many empty spaces on the show ground. 


LEIGHTON HALL - SUNDAY JULY 8TH

After a couple of weeks of awful weather, 5 club members ventured up to Carnforth in Cumbria for this great little show. Tom Ford , Tom Evans and Cyril with Joyce did get caught out in a downpour on the way but once there  the weather stayed bright and sunny all day. Photo shows the club stand in the sunshine with the back drop of the hall .


HUNDRED END LANE -

 ELIM FARM - Tarleton 

FESTIVAL OF TRANSPORT

SATURDAY - JULY 14TH 2007

With heavy rains during the previous week a number of shows had been cancelled over this weekend , including Houghton Towers. Brian Moorcroft, show organiser and the owner of Elim Farm had , however, recently installed a new set of land drains so the ground was very firm and almost dry and there was no danger of the cars becoming stuck. The  small turn out of  cars stalls and the general public was a little disappointing as the sun actualy came out and made quite a bright day.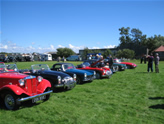 FLOOKBURGH - CUMBRIA 28TH/29TH JULY 

BANK HALL - TARLETON - 29TH JULY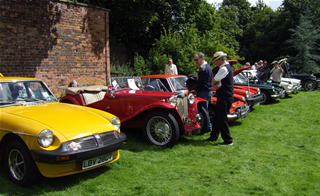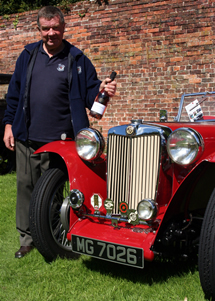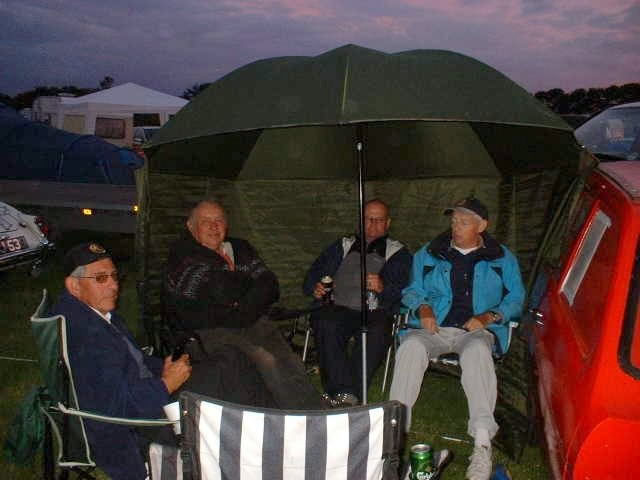 A bright and breezy Sunday at the end of July atracted about a dozen club members out to sunny Tarleton for the annual Banks Hall Transport show. With West Lancs club cars having such a large presence the judges wrere sure to be impressed. This is how it turned out with Ralph winning the car of the show award to make it his 3rd award in 2 weeks - well done!. 

Ralph's TC takes the 

"Car of the Show" award.


WOODVALE - 4TH/5TH AUGUST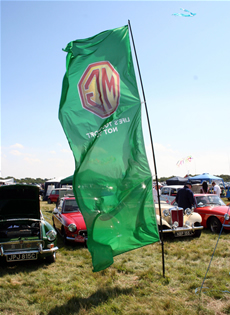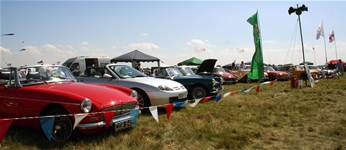 As usual with this 2 day show the classic cars were pretty thin on the ground on the Saturday - but we still managed  8 cars on our stand despite some early rain. With Sunday dry and bright , if a little breezy, large crowds were expected. At first the early signs were that we would barely have half a dozen cars on the stand with our rival club having 7 cars this was looking rather poor. We need not have worried - the late risers in the club arrived around 11 a.m. and soon the stand was nearly full with 14 cars. 

WIRRAL RUN - SUNDAY 15TH JULY 

Four club members, Tom Ford, Cyril, Ralph and Richard ventured to the other side of the Mersey for this run. Conveniently split in to 2 halves each of about 20 miles with a rest at a pub mid way - this turned to be an excellent fun run despite a cloud burst. Finishing at the Port Sunlight village there were lots of cheering local residents lining the roads . Well done to Ralph and Richard who picked up awards in the 40s and 50s categories.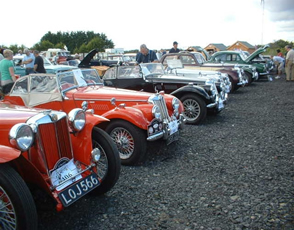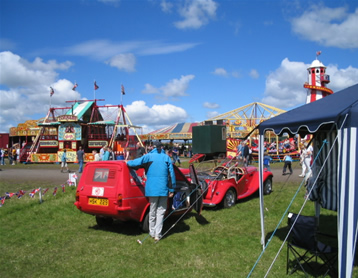 Five club members travelled up to Cumbria for our 3rd visit to this massive show on the old airfield site. The weather stayed relatively fine with strong winds once again. The heavy rains had made a lot of the ground very water logged so many areas were cordoned off. This meant the club stand was placed right next to the fairground . After many hours listening to the Wall of Death barker we soon had stinking head aches and an early break was made for home 

The campers enjoyed an excellent Hot Pot evening meal and then settled down for a spot of joke telling for the rest of the evening. 

Tom admires the excellent view of the fairground

WALES WEEKEND - 21ST/22ND JULY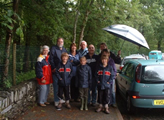 Nigel and family, Warren and family, Noel and Jill and Hennie and I went to Harry's for the long weekend. Paul's house had been struck by lightning causing considerable damage and upheaval (mainly the loss of the television necessitating his having to converse with Lynn) so he was unable to make it for the weekend. The weather was mainly appalling and meant that Noel and I were unable to pitch our tents and were forced (hee hee!) to use Harry's superb B&B facilities for 2 nights. The excellent pool at Harry's got some good use and the highlight of this activity was that Warren had brought his Scuba gear with him and we were able to try sitting on the bottom of the deep end for several minutes at a time contemplating our navels and getting a taste of what it was like to be able to breathe quite comfortably under water.We had a run out to Betws-y-Coed and Swallow Falls, which were in full spate due to the weather. We managed during a break in the weather to have a Barbecue on the Saturday night followed by a walk down to the Pub for drinks, but decided after breakfast on the Sunday that we had all better head for home again as the weather had worsened considerably. The drive home was pretty dire because of the incessant rain but obviously people in other parts of the country were faring much worse than we were so we did not complain too much.

Once again, many thanks to Harry, Pat and David for looking after us so well.

                                                          Ray Trivass

SMILING FACES DESPITE THE WET WEATHER

TATTON PARK - 18TH/19TH AUGUST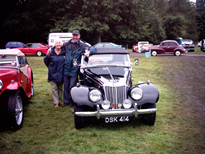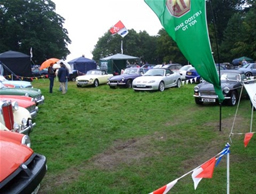 The wet weather continued over the whole weekend but Saturday saw 8 club cars on the stand with showers most of the day. Several brave souls stayed overnight  despite the damp. Brian and Carol Stafford made a welcome return from their new base in Nottingham and were joined by new member Paul Barker with his TD as well as old camping regulars Eric Hesketh and Bren Law. Sunday was supposed to be the better of the 2 days but it seemed to rain for much of the time with some exhibitors starting to leave as early as 12 o'clock  -we still managed to have 13 cars on our stand though.  The afternoon was brightened somewhat with the awards and Cyril's TF took best MG prize with Ralph's TC getting 3rd - well done - all the polishing paid off. 

                Club stand on the Saturday.

Cyril and Joyce celebrate the Best MG award. 

CAPESTHORNE HALL - BANK HOLIDAY MONDAY 27TH AUGUST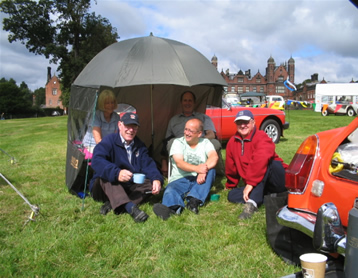 A small gathering of club members visited the Capesthorne show .It was noticeable that there was a small turn out of both exhibitors and visitors with a fairly empty show ground. The showers held off most of the day but Alan's fishing brolly came in handy for sheltering from the cool breeze. 

Photo left shows L to R Marianne, Tom Evans, Ian, Alan and Bob Atherton enjoying some sunshine.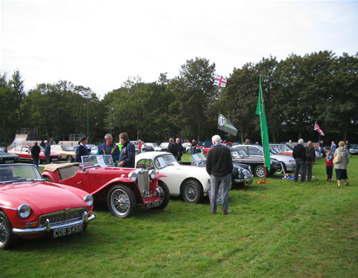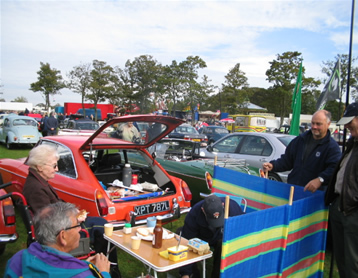 30TH SEPTEMBER 2007

VICTORIA PARK - WIDNES

FAIRGROUND ORGAN PRESERVATION SOCIETY RALLY

This was the 5th year that we as a club have visited this rally . There have been some changes since our 1st visit and perhaps the best was the organisers decision to put the car display near the entrance - this had the additional benefit of being on the opposite side of the park to the fairground organs. They are great to listen to one at a time but when you are surrounded by them it is rather migraine inducing!

The weather for the Sunday was excellent and it was worth noting that of the last 8 Sundays this year there has only been one really wet one - yes you guessed - the one for our own show - that's sod's law for you. The fine weather brought out the crowds for this show - which was free for all - exhibitors and visitors alike ( Southport please note)..

With 11 cars on the stand (which Eric had managed to fence off for us when he arrived early) we had a good turn out and a special welcome for Olive and Bill jump, with Olive looking better all the time and enjoying the autumn sunshine.

This was the last event of the year for the club stand and Tom Evans decided to celebrate the end of his first year as events coordinator by setting up his camp kitchen for a special lunch time treat of bacon and egg butties for all club members - what a nice idea.

The photo above right shows Tom busy cooking with Mike, Alan and Richard waiting for their grub with  Olive checking his kitchen skills. Let's hope Olive gets back to her full strength for next year's shows - we don't half miss her apple pie and cream treats.