The Festival of Transport

at Kingswood College, Scarisbrick Hall

SHOW AND CLASSIC RUN

SUNDAY SEPTEMBER 4TH 2005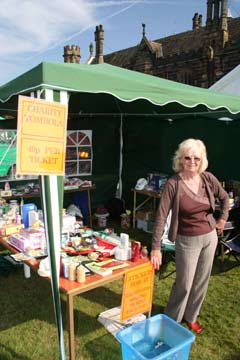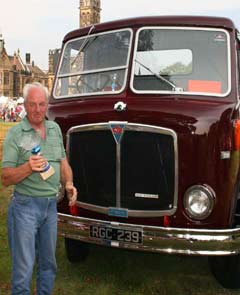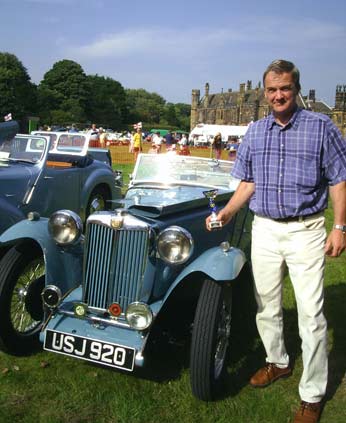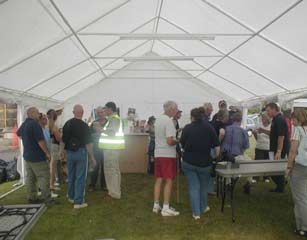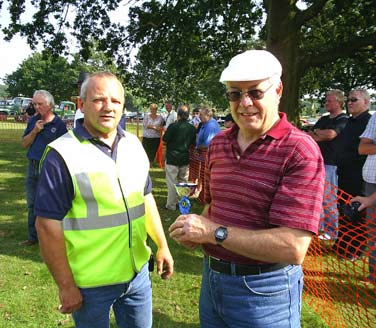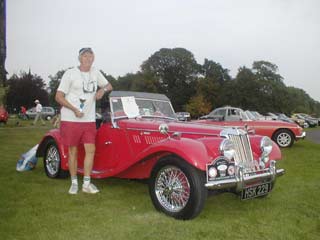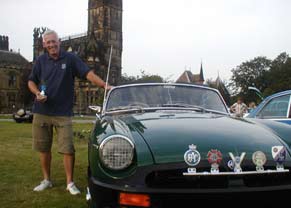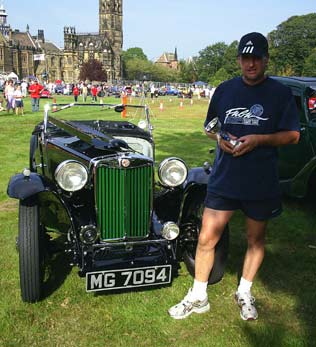 Below is a montage of some photos from the show,  taken by Andrew Dickenson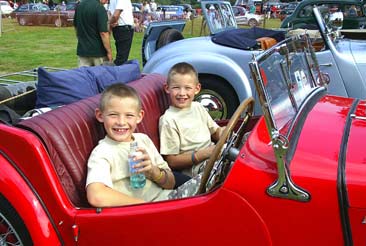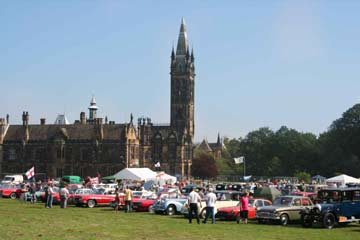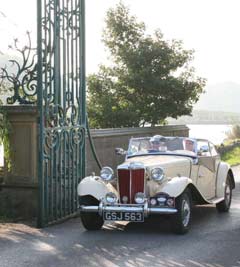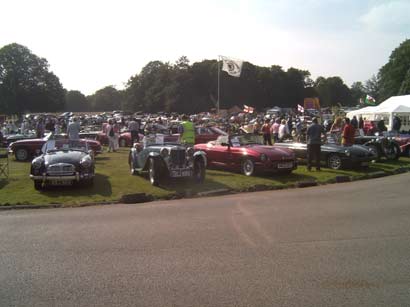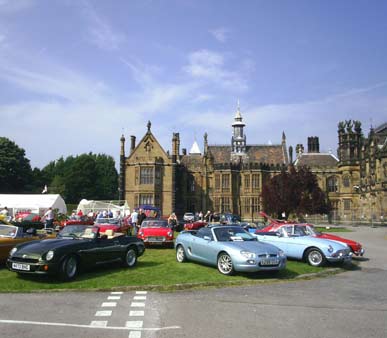 Pre show party - Barrington's pig racing

After show relaxation with a well earned drink

Barrington entertains the kids

MG TD arrives for the run

Thomas & Jack take a shine to Tom's TC

Brian's RV8 and Sandra's F

front the club stand

Best "car" in the show was a lorry!

The 1955 AEC Mercury of

Geoff Brandon from Wigan

Jamie gives Martin his 2nd place trophy in 1940's class for his Triumph Roadster

Brian Burrows from Belmont 1st place in 1940s class

David took 3rd place

in 1940s class

Nigel - 2nd place in 1980s class

Robert  took  3rd place in the  1960s class

behind 2 E types

Tom -with 2nd place -in 1950s class

"Car of the Show" and club members who got awards

The packed show ground in brilliant sunshine

Fantastic turn out of exhibiting cars in front of the hall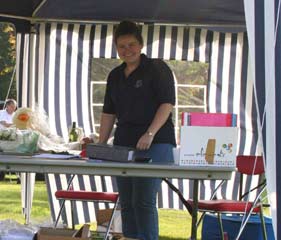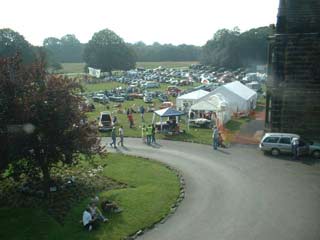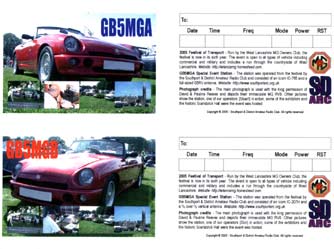 BIRD'S EYE VIEW

Tom managed to get up the tower during the show and took this bird's eye view of part of the

show ground

An interesting aspect of the show is given by the above radio amateur's contact card. This was produced by club member Martyn Griffiths who was on the Radio club stand. He produced this card which depicts Pauline Reeves' RV8 and was sent to all radio contacts made during the show.

We  have been organising our Classic Run and Car show for 5 years now. It originally started out in 2000 as a small event mainly for MG cars and was advertised as a Classic Car Show. Over the last 2 years , since moving to the College grounds at Scarisbrick Hall in 2003 , We have been keen to broaden the interest of their show, hence the change in name to "Festival of Transport". Sponsors of the run were once again, Harry Edmundson's of Hesketh Bank and the show trophies were sponsored again by Church Garage of Scarisbrick.

This year's show was blessed with brilliant sunshine, vindicating the decision to move to the first weekend in September rather than the following weekend and large crowds filled the fields in front of the 19th century Gothic Hall. This year's Festival of Transport drew record entries from a diverse selection of vehicles. The Lancashire Military Vehicle Society brought many of their collection ranging from dispatch motorcycles to large trucks, mostly dating back to WWII. There was a good display of commercial vehicles with exhibits from small vans to heavy lorries . This was all alongside the eclectic mix of saloon and sports cars from the 1920s to the 1980s.

Over 70 cars set off as early as 9 am on their 75 mile Classic Run, a leisurely drive around the scenic lanes of West Lancashire. These cars arrived back steadily after 3 hours or so to take their place in the centre of the Show ground. They were alongside car clubs such as the Triumph Stag's, Lancashire American Car Enthusiasts,  Jaguars, Austin 7s, Capris, and Cortinas and 300 other assorted vintage and classic vehicles.  As well as vehicles, many other interests were catered for, with an appearance of the Local Amateur radio club as well as stalls to keep everyone happy. Children were kept happy all day on the vintage fair ground rides, inflatable slide and bouncy castle and "Professor" Barrington's excellent children's entertainment with magic tricks and   Punch & Judy show.

The central part of the show was the 12 awards given to exhibiting vehicles with classes for commercials, military vehicles, and cars in various year groupings. The judges had an even more difficult job this year with the vehicles now reaching a very high standard; from the everyday Triumph Acclaim of G Lomas from Manchester, winning the 1980s class to the exotic Jaguar XK140 of D. Kay from Bury taking 1st place in the 1950s class. In the final round for "Car of the Show" beautifully presented cars competed against, commercial and military vehicles. Eventually the supreme award went not to a car but to the stunningly restored 1955 AEC Mercury lorry of Geoff Brandon from Wigan.  This was our most successful show to date and our main charity – the Derian House Children's Hospice in Chorley – will benefit substantially this year.

NEW -  THE SATURDAY NIGHT PARTY CD

Ian Pye , our virtuoso guitarist has produced a CD of the music he played at the Saturday pre show party. It is complete with introduction by Nigel our chairman and Racing Pigs commentary from Barrington.  Ian has produced this at the special price of £2 of which he will donate £1-50 to Derian House .

- A MUST FOR ALL CLUB MEMBERS!!