Disclaimer - Note - All the following items are for sale by individual members of the club.(Please note that advertising on this page is for CLUB MEMBERS ONLY)

The West Lancashire MG Owners Club accepts all adverts in good faith but cannot guarantee the condition/ suitability of the items offered. The buyer must establish for themselves the condition/suitability of the item.

Contacting the seller. All interested buyers can make initial contact with the seller through the guestbook or by contacting Cam Cunningham - (club secretary/web site coordinator ) using  the email on the home page.


QUICK SEAL CORE PLUGS   NOW SOLD OUT


Good idea to keep one in the car for emergencies.


See the article in the
TOOLBOX
page




2004 MG ZR 1.4 - club concours winner


1969 Triumph Spitfire Mk3, Red

Tax exempt, 10 months MOT

Excellent "starter" classic. Condition 2 i.e. capable of regular use.

Just serviced, new battery, new brakes, hood in average condition.

All old MOT's for last 16 years.

Copy of Heritage certificate.

£1995. ALL sensible offers considered. Contact Richard Sherman or  Phone 0161 764 7707.

This is 3 door 2004 registered car with just 77k miles.

It won the Pride of Ownership Modern class in 2011 and is still in immaculate condition.

It has had a multi layered head gasket fitted and has a long MOT and road tax.

Offers around £1300

Contact Ron Whittle or Cam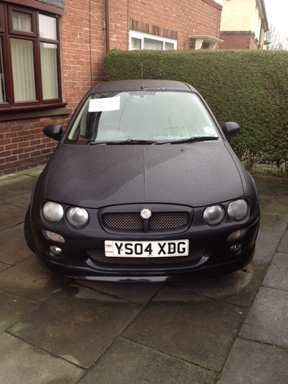 1969 Triumph Spitfire Mk3, Red